Welcome to your WISE Trust pension
You're one of over 10,000 members of the WSIB Employees' Pension Plan (the Plan). Plan members are current or former employees of the Workplace Safety and Insurance Board (WSIB), Infrastructure Health and Safety Association (IHSA), Public Services Health and Safety Association (PSHSA), Workplace Safety and Prevention Services (WSPS), Workplace Safety North (WSN) and WISE Trust.
The WISE Trust mission is to deliver your defined benefit pension now and work to secure it, long into the future. We seek to fulfill our mission for retirement security for all Plan members by providing outstanding service. Our mission statement is underpinned by the values we operate by. Our values help guide the decisions we make and determine the partners we work with.
Integrity
Being transparent and honest in our decisions and interactions
Accountability
Acting responsibly today and providing for tomorrow's future
Service Excellence
Delivering timely, positive interactions to members and partners
Inclusivity
Working as a team, respecting perspectives, and sharing ideas
Innovation
Challenging ourselves and our partners to reach beyond the status quo
We'll never stop looking for ways to strengthen our promise to you.
WISE Trust's 2022-2025 Strategic Plan was approved in late 2021. It establishes strategic direction and sets our priorities for the next four years under five key Pillars.
This Strategy guides our journey of continuing with high levels of member satisfaction, developing a strong culture with highly motivated internal team and external partners, achieving our target of full funding, establishing efficient core business functions, and a clearly defined governance structure.
This Strategy will support our mission to deliver on the defined benefit pension promise now and into the future.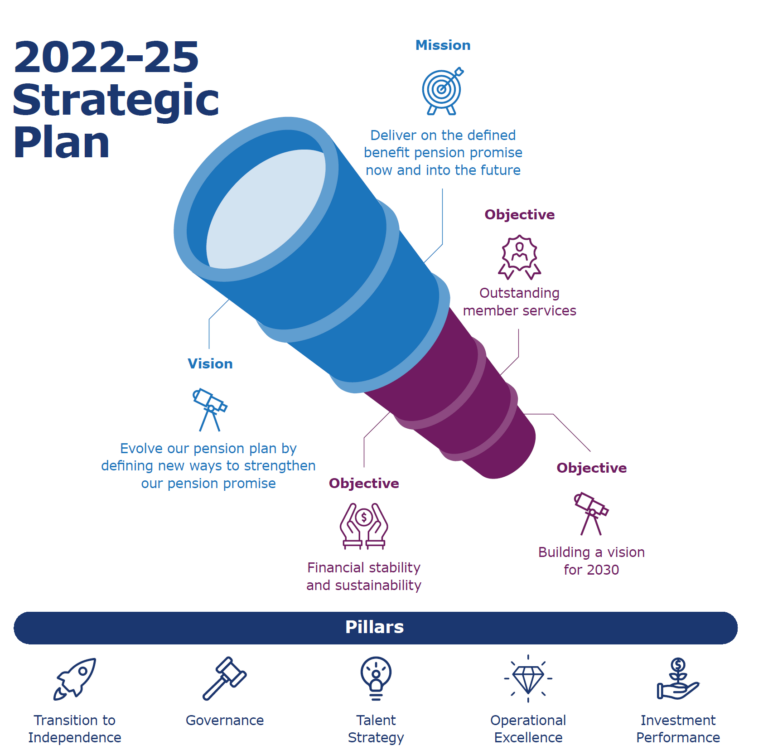 Your WISE Trust pension serves you
The WSIB and the Ontario Compensation Employees Union, CUPE Local 1750 (OCEU), which sponsor the Workplace Safety and Insurance Board Employees' Pension Plan (the Plan), worked together to convert the pension plan from a single employer pension plan to a jointly sponsored pension plan (JSPP). On July 1, 2020 the conversion came into effect. We believe a JSPP model of pension plan is the right model for Plan members because it strengthens the long-term sustainability of the Plan.
The WISE Trust Board of Trustees (made up of individual trustees appointed by the WSIB and OCEU) is the legal administrator of the pension plan and has a fiduciary responsibility to act in the best interest of pension plan members.