How your pension is calculated
Estimating your pension
You can estimate your pension on My Pension Resource. Simply select a specific retirement date, age, or your unreduced, reduced, or normal retirement date and get a pension estimate. You can compare up to 3 estimates to see what date works best for you.
Understanding the pension formula
Your best average earnings is based on highest average of your annualized pensionable earnings over any consecutive 60 months, during your last 120 months of pensionable service before your termination, retirement or passing. If you have less than 60 months in the Plan, your best average earnings will be based on your number of months of pensionable service. In general, the higher your average earnings, the higher your pension will be. Your best average earnings does not include:
overtime pay
irregular-hour premiums
performance bonuses
job differential pay
second-language bonuses
pay in lieu of vacation or Management Compensation Option
any payment in lieu of a benefit provided by your participating employer
Your average year's maximum pensionable earnings (average YMPE) is the average of the YMPEs during the same averaging period as your best average earnings.
Your years of pensionable service is the total time that you contributed to the Plan, or that the employer contributed on your behalf. It includes any service you transferred in or that you might've purchased.
Unreduced early retirement
You can retire without any reduction to your lifetime pension if you qualify under any one of the early retirement rules outlined in Collecting My Pension.
An example of how an early unreduced pension is calculated
Erin retires in 2022. Her age plus years of membership or pensionable service equals 85. This entitles Erin to an unreduced lifetime pension.
Age: 56
Years of pensionable service: 29
Best average earnings: $59,890
Average YMPE: $57,780
Erin's annual unreduced lifetime pension is:
Erin's bridge benefit is:
Because Erin is retiring before age 65, she is also entitled to the annual bridge benefit, until she turns 65:
If you do not qualify for an unreduced early retirement, you can still retire early if you are age 55 or older. Your lifetime pension will be reduced to reflect the fact that you're starting your pension earlier and will probably receive it for a longer period of time.
The reduction is three per cent for each year (or 0.25 per cent for each month) that you retire prior to the date you would have qualified for an unreduced early retirement, or turned age 65 – whichever occurs first. Your monthly bridge benefit does not have an early retirement reduction.
How your pension is calculated when you retire before age 65
If you retire before age 65, you will receive a monthly
bridge benefit
in addition to your
lifetime retirement pension
. The bridge benefit is payable until you reach age 65, when you can begin receiving your full CPP, or pass away, whichever occurs first. It is not payable if you are receiving a disability pension from the Plan.
What is a bridge benefit?
The bridge benefit acts as a "top up" until you can receive your full CPP entitlement at age 65. However, you can take your CPP before you turn 65 and still receive your bridge benefit.
The bridge benefit is calculated in a similar way to your lifetime pension: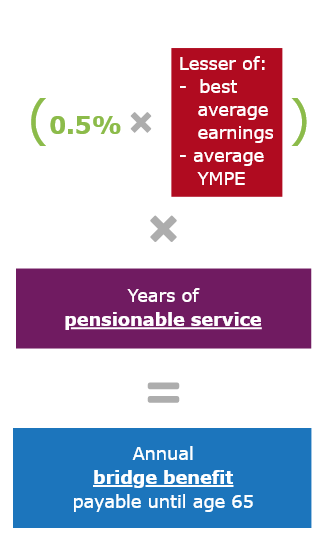 An example of how the bridge benefit works.
So, Stella receives a monthly bridge benefit in addition to her lifetime pension under the Plan until she turns age 65, the age when she can begin receiving CPP and, if she qualifies, OAS. Stella's CPP does not start automatically and will not be equal to the amount of the bridge benefit.
You can learn more about CPP and OAS by contacting Service Canada.