Build your career with the thrill of a startup, but within the structure of a regulated industry.
We are a small but mighty team and pension plan for almost 10,000 workplace insurance and safety employees in Ontario. We are dedicated to delivering on our defined benefit pension promise to our members.
Our team is being handpicked for their experience, personalities, different perspectives, and commitment to our values – this is what we believe makes us great.
We do things differently. We want you to work independently but know you have a supportive team to back you up. And if that is not enough for you, here is a glimpse into some of the norms we've established as a team: 
All voices matter here
What I respect most about working with WISE Trust is that all voices matter here. We are building a culture that reflects our values and promotes a safe space to have authentic conversations across all levels. Every member of the team is dedicated to achieving individual and company-wide milestones, and we have fun along the way!
Amna
Passion for pensions, and people
I am grateful for being able to balance between family and career at WISE Trust, especially during a pandemic when life is full of uncertainty and my family routine requires extra attention from me. I credit our Board of Trustees, Chief Pension Officer, and colleagues for creating and maintaining a great workplace environment and culture, where we are not only passionate about pensions, but also people.
Fumiko
The best of both worlds
You can enjoy all of the advantages of a startup, with enterprise grade structure, processes, and quality, which creates a healthy, productive, and rewarding work environment. It sets everyone up for success.
Vivi
A forward-thinking place to work
New ideas and ways of doing things are more than just welcomed here, they are sought after. It is easy to share your ideas because everyone has an open mind.
Amanda
We are a strong (virtual) team
Being fully virtual for this long has been different than I expected. I credit the team for making the effort to build connections, relationships, and effective ways of working during a pandemic that will serve us well into the future. I am looking forward to the day we can all meet in-person!
Rhonda
A once-in-a-career opportunity to break new ground
I am magnetized by opportunities and environments where I get to help build things from the ground up. Our supportive and open work-hard, celebrate-hard culture motivates me through the challenges and helps me grow on a daily basis. It's so rewarding to get to do all of this while delivering on our pension promise.
Valerie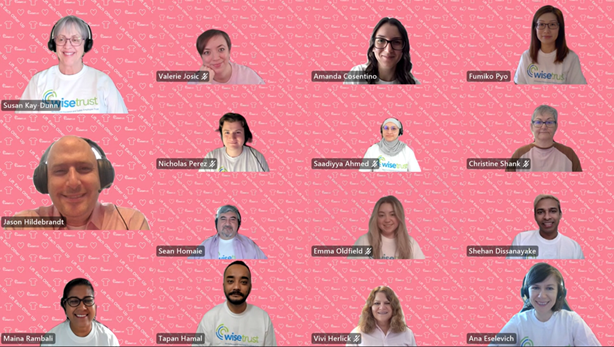 We are proud of our Board of Trustees and Chief Executive Officer because they are thoughtful and passionate about both pensions and people.
We build our team deliberately and we are conscious about who we ask to join us. When we look for a new team member, we are looking for not only someone who shares our values, but also has a diversity of opinion. We want people to bring new ideas that will help create a better experience for our team and our pension plan members. That is why our hiring process is so thorough:
Apply by submitting your cover letter and resume to an open position
If you are selected, you will be contacted for a phone screen with HR
Our shortlisted candidates will then be scheduled for an interview with HR and the Hiring Manager
There may be a second interview with some of our Trustees or our CEO, depending on the position
We will ask you for three to eight references
We will give you at least two current or former employees of WISE Trust – you should do a reference check on us too!
A background screening will be completed (we are handling other people's money, so this step is really important to us)
If you are the selected candidate, we will make it official!
Statement of Commitment
The Board of Trustees of the Workplace Safety and Insurance Board Employees' Pension Plan Fund, operating as WISE Trust, is committed to treating all people in a way that allows them to maintain their dignity and independence. We believe in integration and equal opportunity. We are committed to meeting the needs of people with disabilities in a timely manner, and will do so by preventing and removing barriers to accessibility and meeting accessibility requirements under the AODA and the Integrated Accessibility Standards. Our values of Integrity, Accountability, Service Excellence, Inclusivity, and Innovation all support our commitment to conducting ourselves in a way that is accessible to all.
Our commitment to equity, diversity, and inclusion
We are dedicated to creating an inclusive environment where all employees have the opportunity to contribute and grow personally and professionally, regardless of age, race, gender, nationality, sexual orientation, disability, family status or background. Our differences allow us to bring various perspectives to the work we do.
Here are some things that our team has said about diversity and inclusion: