The WISE Trust team is pleased to welcome our new Chief Executive Officer, Chris Brown!
Chris brings extensive experience and expertise leading pension and investment strategies, policies, and teams to deliver unprecedented value to members and pensioners. Most recently, Chris served as the President and CEO for Local Authorities Pension Plan (LAPP) Corporation in Alberta where he led LAPP's transition to become a jointly sponsored pension plan (JSPP), the same transition WISE Trust undertook in 2020.
The WISE Trust team is proud to have Chris lead us through WISE Trust's next chapter as we continue to deliver the defined benefit pension promise to our over 10,000 members.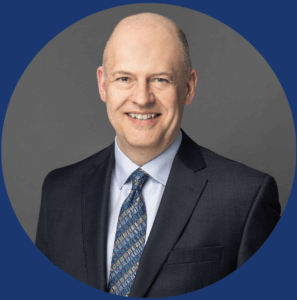 Chris Brown
Chris Brown is the Chief Executive Officer of Workplace Insurance & Safety Employees Trust (WISE Trust), the administrator of the WSIB Employees' Pension Plan. The Plan is a jointly sponsored pension plan (JSPP) sponsored by Ontario's Workplace Safety and Insurance Board (WSIB) and the Ontario Compensation Employees Union, CUPE Local 1750, with assets in excess of C$4 billion. The Plan's 10,000+ members are current or former employees of WSIB, Infrastructure Health and Safety Association, Public Services Health and Safety Association, Workplace Safety and Prevention Services, Workplace Safety North and WISE Trust.

Prior to joining WISE Trust, Chris was the President & Chief Executive Officer of LAPP Corporation, the administrator, and trustee of the pension fund, of the Local Authorities Pension Plan (LAPP). The largest pension plan in Alberta, LAPP serves the health, municipal and education sectors in the province.

Previously, Chris was a practicing lawyer for over 20 years and has been a leading pension expert counselling clients and working with regulators and other pension policy makers on pension legislation and governance at the provincial and national levels. Over his legal career, Chris had extensive experience counselling clients on all matters relating to the governance, investment, administration and regulatory compliance of pension plans and other employment benefits and compensation plans. Chris was a founder and managing partner of a firm specializing in human resources-related law and has been a partner in leading national law firms.

Chris served as the President and Chair of the Board of the Association of Canadian Pension Management from September 2010 to September 2013, and is a current member of ACPM's Executive Committee and National Policy Committee. Between October 2007 and November 2008, Chris served as Co-Chair of the Alberta-British Columbia Joint Expert Panel on Pension Standards. Chris also serves on the Editorial Advisory Board of Benefits Canada.

Chris holds a Bachelor of Commerce (University of Alberta), and a Bachelor of Laws (Osgoode Hall Law School, York University).